Developer:
Criterion Games |
Publisher:
Electronic Arts |
Genre:
Racing |
Release:
November 1st 2012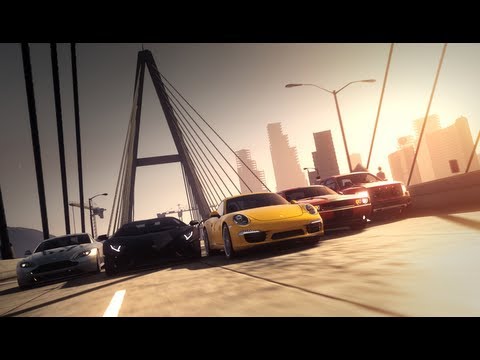 Quote:
Outdrive your friends, outrace your rivals and take down a city full of cops to become Most Wanted.

Criterion is shaking up Need for Speed. This is Most Wanted for a new generation of players.




OPEN WORLD ACTION




Freedom is everything.


Lose the cops – your way. Hit jumps and shortcuts, switch cars, hide out or play to your car's unique strengths by driving off-road, hitting straights or diving into back alleys.

Drive anywhere, explore the world, hang out with your friends or toy with the cops.

It's about you, your friends and the wildest selection of cars in a heavily policed, urban landscape. What would you do?






NONSTOP MULTIPLAYER




No menus. No lobbies. No restrictions.


Our online play's about intense competition, team games, massive variety, persistent scoring, deep ranking and endless rewards and Modifications.

Pick a car, meet up with your friends and enjoy a nonstop PlayList of competitive events.

Influence the PlayList by voting with your car. Fight for position on the start line or turn around to take out oncoming rivals at the finish. It's online driving, as you've never seen it.






BEAT YOUR FRIENDS




Beat your friends to become the Most Wanted. Anytime. Anywhere.


Intense competition is at the heart of Most Wanted. Autolog™ 2.0 records everything you do in the game, broadcasting your most newsworthy scores, speeds and times to your friends.

Personalization is key. Teach Autolog™ 2.0 who you really want to beat, and it'll customize the Recommendations it makes.

Earn Speed Points (SP) and rank up for everything you do in the game. Outdrive your friends to become Most Wanted.






RACING WITHOUT RULES




There's a start and a finish; the rest is up to you.


Fans of Hot Pursuit and the Burnout series will be familiar with Criterion Games' driving style. We're all about insane speed, spectacular crashes, amazing action and huge drifts.

For Most Wanted, we've evolved our handling to suit an open, city location and to deliver a deeper, more physical feel that showcases the personalities of some truly incredible cars.
Quote:
Pre-order Need for Speed Most Wanted to guarantee your Limited Edition version. Boost your progression faster than your friends by earning double Speed Points for your first four hours of multiplayer. Leave your friends and rivals in your rearview as you take control of two of the World's hottest cars, equipped with the latest performance modifications and the exclusive Satin Black livery.



KEY FEATURES – LIMITED EDITION
4 Hours of Double Speed Points – Get double Speed Points for your first four hours of multiplayer.
2 Limited Edition Vehicles – Get early access in online multiplayer to two of the World's hottest cars complete with the exclusive

Satin Black livery

and the latest performance modifications.


The ultimate in speed and style, there isn't a more impressive piece of automotive engineering than the Maserati GranTurismo MC Stradale featuring these

Limited Edition modifications

:


Racing Engine and brakes

tuned for increased power and control.
The

Ground Effect Body

increases down-force for better maneuverability.

The powerful, lightweight and super responsive 2012 Porsche 911 Carrera S is perfect for ditching rivals at breakneck speed and comes equipped with these

Limited Edition modifications

:


Optimized

Aerodynamic Body

reducing drag for maximum top speed.
Efficient and sustained speed boost with the

Nitrous Burn

.
Quote:
Want to know what the rest of our pre-order packages are?


Power Pack
Ford F150 SVT Raptor
Reinforced chassis modification
Nitrous dump modification
Exclusive black satin livery
Early access unlock for multiplayer
Strike Pack
Mercedes-Benz SL65 AMG Black Series
Power pack powertrain modification
Reinflating tires modification
Exclusive black satin livery
Early access unlock for multiplayer
Speed Pack
Caterham R500 Superlight
Track tires modification
Lightweight chassis modification
Exclusive black satin livery
Early access unlock for multiplayer
Minimum System Requirements
OS: Windows Vista (Service Pack 1) 32-bit
Processor: 2 GHz Dual Core (Core 2 Duo 2.4 GHz or Althon X2 2.7 GHz)
Memory: 2 GB
Hard Drive: 20 GB
Graphics card (AMD): DirectX 10.1 compatible with 512 MB RAM (ATI Radeon 3000, 4000, 5000 or 6000 series, with ATI Radeon 3870 or higher performance)
Graphics card (NVIDIA): DirectX 10.0 compatible with 512 MB RAM (NVIDIA GeForce 8, 9, 200, 300, 400 or 500 series with NVIDIA GeForce 8800 GT or higher performance)
Sound card: DirectX Compatible
Keyboard and Mouse
DVD Rom Drive
Recommended System Requirements
OS: Windows 7 64-bit
Processor: Quad-core CPU
Memory: 4 GB
Hard Drive: 20 GB
Graphics Card: DirectX 11 compatible with 1024 MB RAM (NVIDIA GeForce GTX 560 or ATI Radeon 6950)
Sound Card: DirectX Compatible
Keyboard and Mouse
DVD Rom Drive